[2022.05.26]Visado de trabajo en vacaciones de Nueva Zelanda para Argentina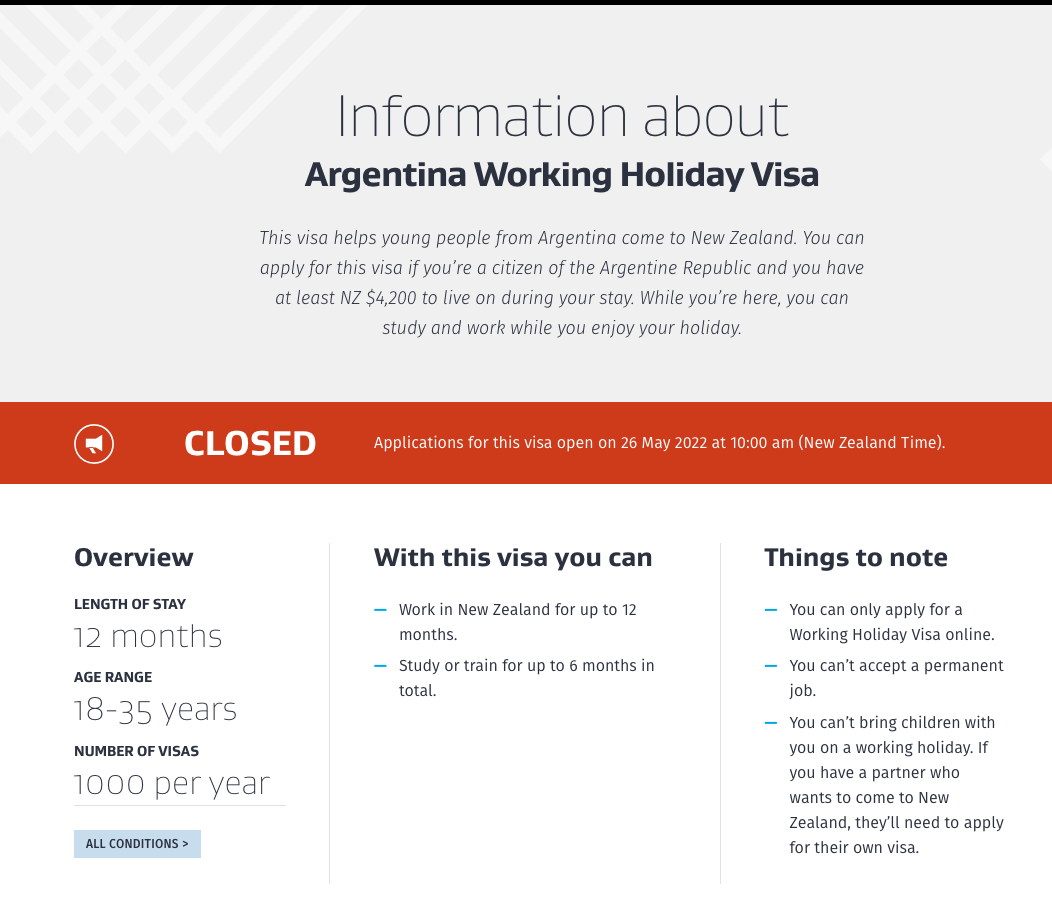 Todo lo que necesita saber sobre la visa de vacaciones de trabajo de Nueva Zelanda para Argentina
All you need to know about New Zealand Working Holiday visa for Argentina
Escribiremos este artículo en inglés, ya que nuestro equipo no tiene nadie que entienda realmente el español. Pero puede usar el traductor de Google para traducir todo el artículo, y le prometo que este será un artículo muy útil para ayudarlo a obtener la visa de vacaciones de trabajo de Nueva Zelanda
We will write this article in English, as our team has no one really understand Spanish. But you can use google translate to translate the whole article, and I promise that this will be a very useful article for you to help you get New Zealand working holiday visa
---
Contents
What is New Zealand working holiday visa
Requirements to apply for the visa
The application process
The slot is hard to get, how can I get it with higher chances
After securing the slot, what should I do next?
Other Q&A
---
What is New Zealand working holiday visa for Argentina?
New Zealand working holiday visa allows applicants from Argentina to apply, after being granted the visa, the visa holder can stay and work in New Zealand for at least 12 months, and if meet specific requirements during your stay in New Zealand, you can extend it for another 3 months, so in total, you can work in New Zealand, enjoy the nature here for 15 months.
Linkage about the visa: https://www.immigration.govt.nz/new-zealand-visas/apply-for-a-visa/about-visa/argentina-whs#https://www.immigration.govt.nz/new-zealand-visas/apply-for-a-visa/visa-factsheet/conditions/argentina-whs
Requirements and documents: https://www.immigration.govt.nz/new-zealand-visas/apply-for-a-visa/criteria/argentina-whs?nationality=nationality-ARG&country=residence-ARG
---
The requirements for the visa
The requirement in fact is pretty simple:
You must hold Argentina Passport
You must be between 18-36 years old
And you have not been granted this visa before.
If you meet the requirement above, then you can apply.
But remember to check the expiration period for your passport. To pass the online form validation and to submit the application, your passport must be valid at least until 15 more months, we recommend you hold a passport with more than two years expire time.
Here are 2 reasons:
During the online application process, you will need to select your planned date to arrive in NZ. That is just a random question, you can just enter the day after the open day, which is 2022.05.26. So enter it as 2022.05.27. Because the valid period for you to pass the form validation is based on this value. Your passport must be valid until

 

the planned date you enter + 15 months.

 

So if you put 2022.05.27 here, your passport must be valid until 2023.08.27
After you are granted the visa, you will need to enter NZ within a year, and when you enter NZ, your passport will need to have at least 15 months of validation. You can renew your passport later after you get the visa, and update the new passport information with the immigration officials, but that added one more step, so better to have a long valid period for your passport, so you will not need to waste your time later.
If you meet all the requirements, then you come to the most important and hardest step here, secure the slot, to be the 1/1000
---
So as you can see in the picture above, there are only 1000 slots each year, if you want to get the visa, you will need to be 1/1000. And to be the 1/1000, on the open day, you will need to be very very very quick to fill the online form, submit the application online, and pay the visa fee successfully online, then you can secure the slot. Normally the slots will be filled in minutes, I think most of you already know that.
So the application process next is:
Get the slot on 2022.05.19, which is the online application process
do the healthcheck, which is the x-ray
submit other required documents listed in the email the immigration officer sent.
wait for the visa grant letter, or if the immigration officer needs more information from you, they will contact you.
normally you will get your visa in two weeks
Online application system: https://onlineservices.immigration.govt.nz/
The online application process in detail, here is the article we wrote for Brazil, but you know, all the application processes are nearly the same, you just need to change the country, so the tips will also work for Argentina: https://www.whvstore.com/2019/07/14/2019-brazil-working-holiday-visa/
There is also an introduction to the free automatic tool we provide above, or you can check this link: https://www.whvstore.com/2022/04/02/how-to-increase-your-chance-to-secure-the-slot-for-working-holiday-visa-to-nearly-100/
https://www.whvstore.com/plugin-en/
Notice that this year the visa fee for Argentina is 280NZD, and you will need to pay it via visa/MasterCard, no matter it is a credit card or debit card, just make sure you can pay that much when you apply.
---
Documents
Immigration will send an email which lists all the required documents they need, and you just need to follow the instruction in the email, submit all the scanned documents to the email address they provide. then all done
Wait for the visa approval letter.
After you get the visa
You can enter NZ within a year, and from the date, you enter NZ, you can stay in NZ for a year. And it is an e-visa, so you will need no sticker with your passport, but you can download your e visa and print it from online service system, when you find a job in NZ, you may be required to show that.
---
Q&A
We do provide service to get you the slot, no miss, if you are interested, you can contact us via email: whvstore@gmail.com
If you have any confusion here or have any other questions not listed here, feel free to ask, and we will update it here and share it with all people
Good luck.
---
Make sure you read both articles: