[2020.01.23]Malaysia Working Holiday visa open date released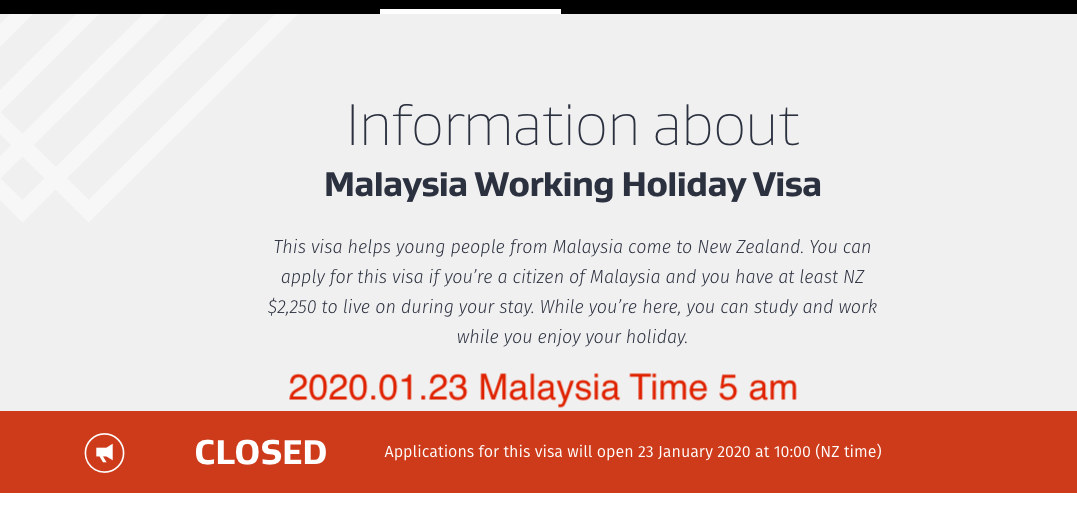 Today(2019.10.21), New Zealand immigration released the open date for Malaysia working holiday visa, which is 2020.01.23, Malaysia time is 5am.
Take a note down!!!! Set an alarm!!!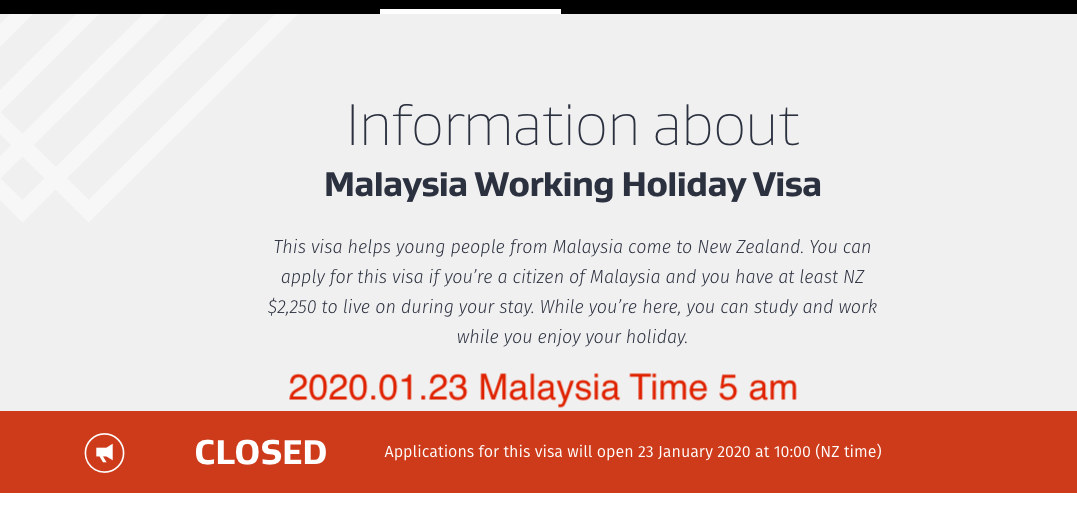 ---
Basic Introduction
If do not know about this visa, here are some basic introductions.
If you hold Malaysia Passport, and your age is between 18-31 years old. Then you can apply for this visa.
This visa has a limited quota, which is 1150 each year. You need to apply it online. Normally the quota will be filled within minutes on the OPEN DAY. Some people had tried to get the quota for years, however missed.
After you get the quota, normally a decision will be made in weeks. If you meet all the requirements and do not have any bad records with immigration, then you will get an approval letter.
With the approval letter, then you can go to New Zealand, stay and work there for 6 months. And if your work meet some specific requirements, you can get an extension for another 3 months. Or if you lucky enough, find a full time job, you can apply for a work visa later.
So basic if you meet the requirements, then the hardest step is to get the quota.
Here are some useful links for you:
That's why we here.
---
Our service
Our service is to help people get the quota, with no miss. We are well experienced, and have helped a lot of people across the world get the quota. We have developed a set of powerful automatical tools to lock the quota for you, in minutes.
So if you meet the requirements, and do not want to miss the chane in 2020.01.23, contact us, leave your email address and phone number, and then we can send you a link to register your information.
Here is our history successful records:
Any question, feel free to contact us: whvstore@gmail.com