[How to Enter NZ] Vaccine Passport for New Zealand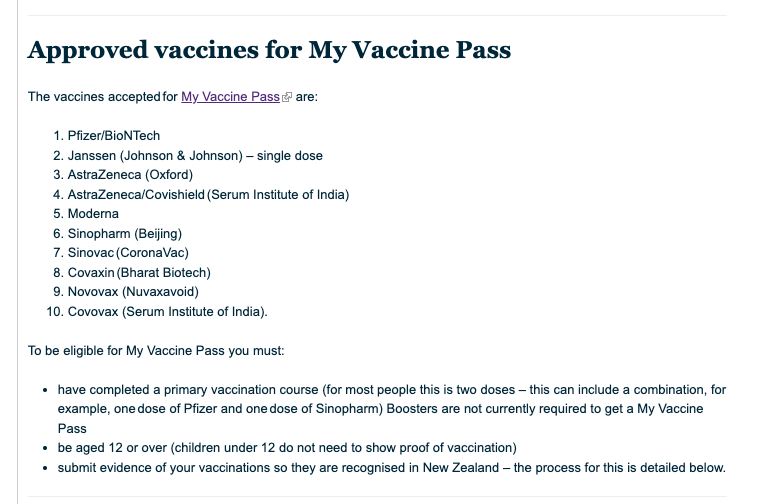 So a lot of us have just been granted the new replacement working holiday visa to enter New Zealand, and some of us are planning to grab one recently.
Either way, we are on the track to enter New Zealand in the coming future.
However, COVID not yet leave us alone, New Zealand still require vaccine passport to allow you enter the border.
What's the requirement details?
Vaccine passport requirement
The above is the official link about the requirements and how to do it.
Steps to follow
You will need a proof of vaccination to enter NZ.
You will need to apply for a vaccine pass before you enter NZ.
To get vaccine pass,

you will need to have at least two doses vaccines with one of below:

Pfizer/BioNTech
Janssen (Johnson & Johnson) – single dose
AstraZeneca (Oxford)
AstraZeneca/Covishield (Serum Institute of India)
Moderna
Sinopharm (Beijing)
Sinovac (CoronaVac)
Covaxin (Bharat Biotech)
Novovax (Nuvaxavoid)
Covovax (Serum Institute of India).

or if you have vaccine other than the 10 above, you will need to

provide the evidence you have done something else (within the other 33 names)

have another dose of

Pfizer, AstraZeneca, Janssen, or Moderna.

You can have the other dose before you come to NZ, or after you enter NZ. It is free to get vaccinated in NZ
So one word summary, basically if you had the vaccine doses, you basically can grab the My Vaccine Pass, just depending on which vaccine you had, you will need to prepare different documents.
---
Application process and documents:
My Vaccine Pass oversea Application link
You will be asked for your:
full name
date of birth
National Health Index

 

(NHI) number (if applicable/known)
last address in New Zealand (if applicable), and
evidence of your vaccination(s).
Your vaccination record and evidence above must be in English or professionally translated into English prior to applying.

evidence of your vaccination through a vaccine certification issued from the country where you were vaccinated, or an equivalent documentation. This documentation must contain the following information:

your name (first and last)
the name(s) of the vaccines you received
the country where the vaccine(s) were administered
the date the vaccine(s) were administered

Note: Some digital vaccination certificates (typically featuring a QR code) may only contain information about the most recent dose.
In many cases you are able to request a certificate for both vaccination events from the country you were vaccinated, and you should do this if available.
If this is not available, please indicate the date(s) of any other vaccinations received in your submission.